Maxum Benefits
The MAXUM System is clinically proven to provide the following advantages over conventional hearing aids.*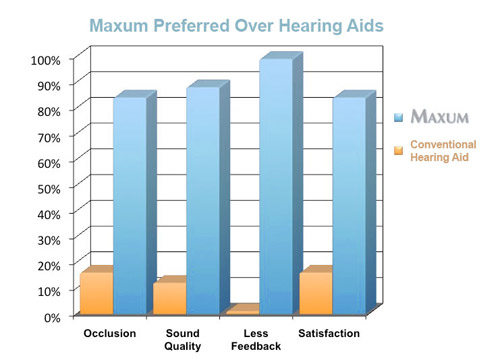 Eliminates/reduces acoustic feedback since sound is not being collected and amplified in the ear canal.

99% of clinical study subjects preferred the MAXUM over hearing aids as having the least amount of feedback.

Improved sound quality perception resulting from the direct driving of the stapes into the inner ear.

89% of subjects preferred the sound quality of MAXUM over hearing aids.

Reduced occlusion (own voice sounding like you're in a barrel) effect since an acoustic seal of the ear canal is not needed for managing acoustic feedback.

54% of subjects reported occlusion with hearing aids, Only 23% reported occlusion with MAXUM.

Perceived improvement of benefit over hearing aids from the availability of additional sound and lessened distortion since a more natural pathway for sound has been used.

88% of subjects preferred MAXUM over hearing aids in terms of overall satisfaction.
* Hough, Dyer, Et Al. Phase II Results, Laryngoscope. "Middle Ear Electromagnetic Semi-Implantable Hearing Device…", Otology and Neurotology, Volume 23, No. 6, November 2002.